Downtown Chicago is a great place to live if you're a dog owner. With plenty of parks and open spaces, your furry friend will always have a place to run and play.
The chicago park district however have strict rules over where you can and cannot take your dog. Therefore, in this guide, we'll tell you about some of the most popular dog parks in the area, so you can rest assured your dog will be welcomed.
This blog post will map out the best dog parks in River North, Streeterville, Lakeshore East and the Loop.
Are Dogs Allowed In Downtown Chicago?
If you are visiting downtown Chicago, you can absolutely bring your dog, however, it can be crowded and noisy, which can be stressful for some dogs.
Also, most stores will not let you bring your pup in (unless it is a real service dog), so consider having someone who can stand outside with your furry friend if you are shopping.
What I Should Know When Bringing My Dog Downtown
It can be good idea to map out dog-friendly areas in the city, so you can give your pup a break from the hustle and bustle when they need it.
There are several dog parks located downtown, which provide a great opportunity for dogs to socialize and exercise. Bring that tennis ball with you and a portable drinking cup to keep fido hydrated too.
Additionally, many restaurants and cafes have dog-friendly patios, so you can enjoy a meal with your furry friend. For more information on dog friendly businesses, check out my 13 recommendations for doggie fun in River North this summer.
With a little planning, you can make sure your dog has a great time exploring all that downtown Chicago has to offer. So, let's get started!
Look no further!
Our map will show you the most popular dog parks in downtown Chicago. You and your pup can explore new areas and make new friends together.
Exhibit Dog Park (River North)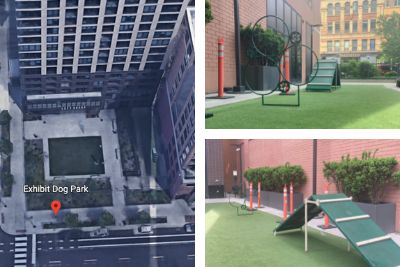 The Exhibit Dog Park is a popular dog park to make a stop and hopefully play with some other doggie friends. This enclosed Dogg park is smaller, but newer and therefore very fresh.
The Exhibit Dog Park is a great place for your pup to meet new friends or just stretch their legs. There are plenty of benches for you to sit and relax while your pup explores.
This park also has some agility equipment for those pups who like to show off their skills. The Exhibit Dog Park is the perfect place to for dog owners to socialize their pup in a safe and friendly environment.
Pro:
Clean
Includes some agility equipment
Centrally located
Con:
Larrabee Dog Park (River North)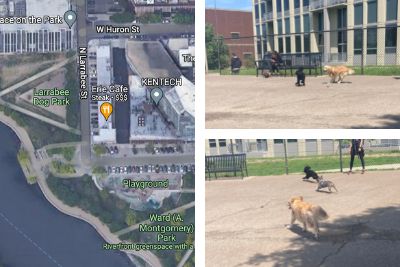 Larrabee Dog Park is adjacent the beautiful Montgomery Ward Park on the far west side of downtown. It's spacious, with great views of the river, and your pup will love exploring all the different smells at the park.
While you're there, you can enjoy some on-leash time in the general park too (this is enjoyed by many dog owners). The walk to the park may feel a bit long, but it's worth it for the ambiance.
Pro:
It's set in a more quiet area of River North
Great views of the River
Con:
It's located on the far end of River North making it a longer walk there
The park is mainly concrete with little shade for sunny days
Ohio Place Dog Park (River North)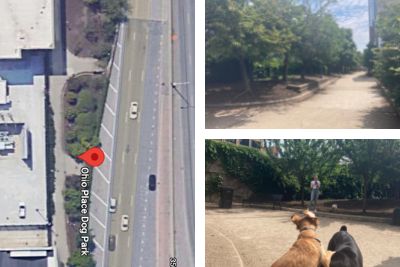 Ohio Place dog park is the best dog friendly area to play fetch with your four-legged friend. So don't forget your ball or frisbee when heading over here.
The longitudinal shape of the park is perfect for larger dogs who want to run and explore, and the amount of trees allows for shaded areas to observe.
Due to its proximity to the highway, it can be a bit loud, so if you're looking for a quiet place to relax, this may not be the park for you.
Pro:
Longitudinal space allows for dogs to run unobstructed.
Great for playing fetch.
Has shaded areas
Con:
Tricky to get to due to crossing some major roads.
close to the highway and can be loud.
Fulton River Dog Park (West Town)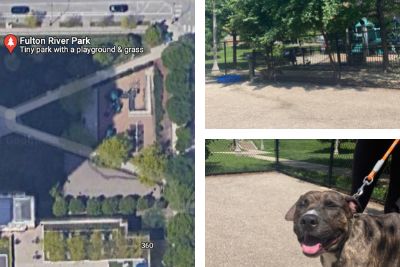 Fulton river dog park is the perfect dog friendly area to bring your furry friend for an afternoon of fun!
The park is a good size, so there's plenty of room to run around and play. Plus, there are shaded areas for when it gets too hot.
Since the park is across the river in a very residential area of downtown, it's nice and quiet – perfect for a leisurely stroll.
So whether you're looking for a place to tire out your pup or just want to enjoy some peace and quiet, Fulton river dog park is the perfect spot.
Pro:
In a more quiet area of the city
good size to run and play
Con:
A further walk from the center of downtown
Bennett Dog Park (Streeterville)
Located in Bennett Park, just off ohio street, this dog park is a great place to take your furry friend for a romp!
This dog friendly area is split up into 2 separate enclosed dog runs. One of which is specifically for small dogs.
This small dog park is perfect for shy dogs who are still getting used to being around other off leash dogs, and the enclosed area for small dogs means that everyone can play safely.
Plus, the irregular shape of the park means there are lots of nooks and crannies to explore.
So whether your pup is a big adventurer or a little wallflower, they're sure to have a great time at Bennet Dog Park!
Pro:
Has a specific area for small dogs only
The are often other dogs to play with
Con:
Not a lot of room to run for larger dogs
Lakeshore East Dog Park (Lakeshore East)
Lakeshore East Dog Park might be one of my favorite dog friendly area, based on size, setting, and amenities.
Located just west of the lake shore, It has the best shading by far for hot days and is one of the few with a water feature incorporated into the design of the space.
The water fountain is great for hot days, your pup can get a quick sip of water or cool off after a good run.
With a high population of dog owners that live here, you are likely to always have a pup to play off leash with in this dog friendly area
The only downside is that it can be tricky to find if you are not familiar with the area but once there it is a dog haven.
Pro:
great shading
water fountain
good size
Con:
Grant Bark Park
If you live in the Loop or South Loop and are looking for a dog friendly area, look no further than Grant Bark Park!
This park which is just west of lake shore dr, is perfect for pups who need a break from the hustle and bustle of the city. The trees provide some shading, and the park is relatively quiet, making it a great place to relax.
Plus, it's close to Grant Park, so you can explore the area before or after your visit to the park.
So whether you're looking for a place to take your pup for a walk or just want to find a quiet spot to enjoy some time outdoors, Grant Bark Park is the perfect place for you.
pro:
con:
no special features
all concrete
Are Dogs Allowed At Chicago Parks?
Chicago is a beautiful city with plenty of green space for people and pups to enjoy. However, per the chicago park district rules, not all parks in Chicago are dog friendly.
For example, Millennium Park is a large park in the city that does not allow dogs. Before taking your dog to a park, it is important to check online to make sure that it's a dog friendly area.
Dogs are also not allowed in children's playgrounds. This may be tempting since they are fenced in, but you could end up angering a parent if you do this.
Remember to be considerate of others when bringing your dog to a park in Chicago and always keep them on a leash. if your dog is friendly, its easy to want to let them off leash in open areas.
Unfortunately you could scare passerby's or end up interacting with a not so friendly dog while there.
You might also be interested in:
Are Dogs Allowed in Chicago Beaches?
There are plenty of beautiful beaches along the lake front where dogs are welcome, and many of these beaches even offer special amenities for four-legged friends.
However, not all of Chicago's beaches are dog-friendly. While this may be disappointing for some pet-owners, there are still plenty of ways to enjoy the city with your furry friend by your side.
If you are in downtown Chicago, these are the closest dog friendly beaches to bring your dog:
Montrose Dog Beach
Belmont Harbor Dog Beach
What Is The Largest Dog Park In Downtown Chicago?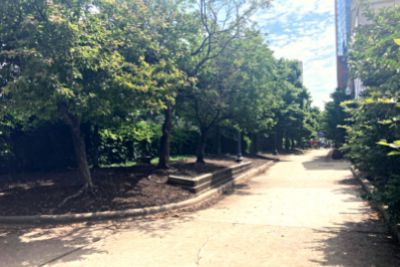 The Ohio Place dog park is a great place for Chicago's furry friends to get some exercise and play. It has almost 1/2 acres of space, which means that your pup will never run out of options when looking at where they can go in this huge enclosure!
A lot goes down here every day – from morning pup meetings too late night playtime; if you're seeking something social and spacious, then look no further than Ohio Place Dog Park.
Breakdown of Dog Park Sqft in order from smallest to largest
Exhibit Dog Park: 1,539 sqft
Fulton River Dog Park 2,422 sqft
Bennet Dog Park 3,680 sqft
Montgomery Ward Dog Park 5,662 sqft
Grant Bark Park: 7,997 sqft
Lake Shore East Dog Park: 15,069.47 sqft
Ohio Place Dog Park: 19,375 sqft
The best dog parks in Chicago mapped
Look no further!
Our map will show you the most popular dog parks in downtown Chicago. You and your pup can explore new areas and make new friends together.
Going to the dog parks in downtown Chicago is a great way to socialize your furry friend and get some exercise. But when just arriving to the Windy City, it can be hard for dog owners to decide which dog friendly area is right for them and their pup.
To help you out, we've mapped together the six of the best dog parks mentioned above. From longitudinal parks to parks with doggie- play equipment and water features, there's something for every pup to enjoy.
So round up your pack and head on out to one of these paw-fect spots!