EXPLORE OUR CLIENT INTERFACE
Everything you need conveniently in our TimetoPet App!
*note colors are different due to re-branding in 2022. Everything else is the same.
Download the Time to Pet App
Apple Phone
Android Phone
YOUR HOME PAGE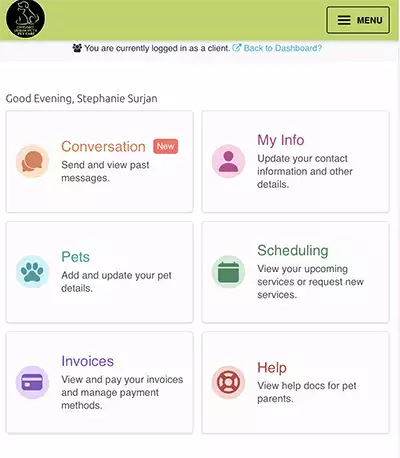 From here you can access all features such as Requesting Services, Managing Invoices and updating Personal and Pet Information. If you have any questions our wonderful team is here to help you Monday through Sunday 9am – 4pm CST.
YOUR CONTACT INFORMATION
​​Personalize your page with your Contact Information. Your pet sitter will have access to this in order to find your home.
PET INFORMATION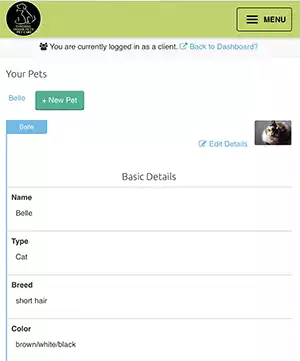 Add your pet's personal information such as Breed, Age, Neutering as well as Vaccinations. In the Section below you can add your Family Veterinarian. Upload a preferred photo to customize your pet's page.
PET CARE ROUTINE NOTES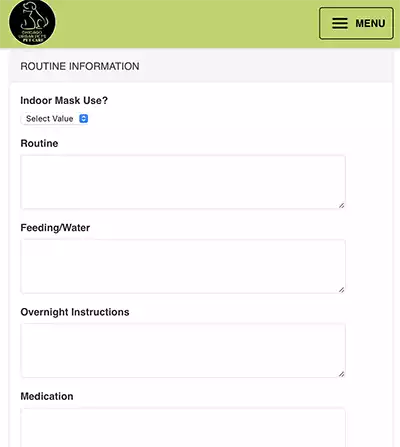 These notes are found also under the "My Info" section.
You can input your own notes and update existing notes at any time. We also allow our clients to specify if they prefer us to wear masks indoors.
ONLINE SERVICE REQUEST FEATURE
Request Services via the Client App. Pick the dates and time frame as well as add additional notes specific to the visits. You will receive an email notifying you of the request. You will receive a second email confirming the request as been scheduled. This second email will list your assigned pet sitter / dog walker.

AWESOME MESSAGING SYSTEM
Communicate with your assigned dog walker and cat sitter as well as with the office via a streamlined chat board. Your personalized service reports will show up here as well!