Frequently Asked Questions
CANCELLATION POLICY
CANCELLATION POLICY FOR DOG WALKING:
Notify us before 4PM of the previous day of cancelled visits: full refund will be given to clients.
Notify us after 4PM no refund given to client; full reservation fee will be charged to client.
---
CANCELLATION POLICY FOR PET SITTING: (INCLUDING CAT SITTING)
Notify us before 4PM prior to pet sitting start date: full refund will be given to clients. (example, if you request cat sitting for April 4-10, any cancellations for a refund need to me made before 4PM, April 3rd).
Notify us after 4PM no refund given to client; full reservation fee will be charged to client.
---
​CANCELLATION POLICY FOR DOG WALKING AND PET SITTING OVER MAJOR NATIONAL HOLIDAYS:
Notify us 7 full days prior to a Holiday Period start date: full refund will be given to clients.
Notify us 6 full days or less prior to Holiday Period start date: no refund given to client; full reservation fee will be charged to client
---
RATES
WHERE CAN I FIND A BREAKDOWN OF YOUR RATES?
You can find a complete list of all our services and rates here….
---
ARE THERE DIFFERENT RATES FOR WEEKENDS / MORNING AND EVENINGS?
Yes, there is a $7 surcharge per visit during mornings before 9:30am and evenings after 4:30pm. We currently do not charge a surcharge for weekend services.
---
HOW ARE YOUR RATES DETERMINED?
Since our employees are not contractors, our payroll costs are higher. We deduce taxes, provide worker's compensation benefits as well as PTO. As employees, we take into account current minimum wage, current wages in our field and travel time of around 15-30min in addition to the time spent with your pet.
---
IS THERE A MINIMUM NUMBER OF WALKS REQUIRED PER WEEK?
There is no minimum walks required per week, however if your walks are scheduled regularly you will enjoy more consistency with the same dog walker. For every week you schedule 3 or more walks, an automatic discount will be applied to your invoice.
---
HOW DO I MAKE PAYMENTS?
We accept payments via our online portal Time to Pet. We take credit card and ACH payments. When onboarding as a client you will be prompted to add your payments credentials to your client account. We will automatically charge your card on file on the 1st of each month after services have been rendered.
NEW CLIENTS
WHAT ARE THE STEPS FOR ON BOARDING NEW CLIENTS INTO YOUR SERVICE?
Create an account with us on Time to Pet.
Schedule a discovery call (video meeting offered) to confirm services with our manager and go over pet care routine for your furry friend.
*optional* schedule an in person meeting with one of our pet care team members. (this option incurs a charge)
Add payment offer to our secure client account (powered by Stripe).
Enjoy services and receive detailed report with pictures in real time!.
---
MY PET HAS BEEN AGGRESSIVE IN THE PAST, CAN WE STILL SIGN UP FOR SERVICES?
We understand some pup's have difficult pasts, and we don't want to leave any doggo out there with less love in its life if we can help it! For the safety of our team, we cannot service a dog who exhibits aggressive behavior towards humans, however on a case-by-case basis, we can offer dog walking to dogs who are leash aggressive towards other dogs.
It is important to note within our service agreement that should there be any medical injuries caused to the sitter or another dog by your pet resulting in any fees or bills, the client is responsible for these invoices.
---
WHY ARE MEET&GREETS OPTIONAL?
Based on the opportunity to schedule a free video call with our manager, and the fact that our team is trained to offer quality care by following your routine notes and our procedures, we believe that we can save families time and energy by getting rid of in person meetings (meet&greets).
Scheduling in meet&greets can be challenging due to conflicting schedules between pet parents and our pet care providers. Our team members work hourly and on specific days, and do not live in your neighborhood.
However for those who feel that an in person meet&greet would benefit their specific situation, we are able to schedule a 30min paid meeting with one of your pet sitters. *it is highly suggested you reach out at least 2 weeks before scheduled services begin if you plan to schedule an in person meet&greet.
---
WHAT DOES IT MEAN TO BE LICENSED BONDED AND INSURED?
Licensed means that the city of Chicago acknowledges us as a valid business, allowing us to conduct business throughout the city limits. This is. document we need to pay the city to renew every certain amount of years.
To be bonded and insured is a way of ensuring our customers that should any negligent acts be committed by our staff that incurs damage to property of pet, becomes the responsibility of Chicago Urban Pets to replace or reimburse.
---
DO YOU REQUIRE A COPY OF KEYS TO MY UNIT AND BUILDING?
We do not require keys for those who live in a building with door staff that can allow our staff up into your unit.
If there is not a front desk, a lockbox is set up outside the building. Chicago Urban Pets can gset up the lockbox for you for a small fee of $30. (which will be added to your first invoice).
SERVICES
WHAT IS YOUR SERVICE AREAS?
Professional Dog walking & Cat sitting in Lakeview East, Lincoln Park East, Gold Coast, River North, Streeterville, Chicago Loop, South Loop and Lakeshore East.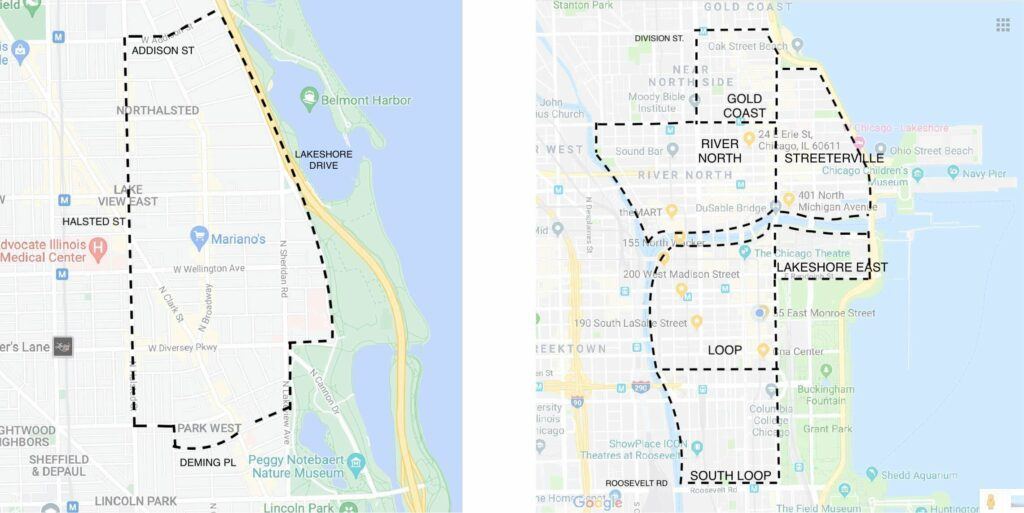 ​HOW FAR IN ADVANCE DO WE NEED TO CONTACT YOU FOR SERVICES?
For new clients going through onboarding we recommend a 2 week notice, but in a pinch we've been able to accommodate new clients within 3 business days of signing up.
For existing clients, we prefer that services are requested the week prior, but we can often accommodate requests up to 4pm the day prior.
Please be advised, anything requested with less than 24-hour notice will incur a $30 Last Minute Fee. Last minute requests are also not guaranteed to provide your preferred sitter.
---
DO YOU WORK ON HOLIDAYS?
There is not a day of the year Chicago Urban Pets does not provide loving care to many furry family members. We are open 365 days a year. Please note however, there is an additional $12 Holiday Fee incurred to all services falling on any major U.S. holiday.
The Holidays we charge extra for are:
Martin Luther King Jr. Day
President's Day
Easter Weekend (Sat-Sun)
Memorial Day
Independence Day
Labor Day
Thanksgiving: Thu-Sun
Winter Holidays: Dec 24-Jan 01
---
DO YOU PROVIDE LIVE-IN SERVICE FOR MY PET WHEN I TRAVEL?
We do not offer live-in service for pets. This is something usually solo-sitters offer, as they are not limited to minimum wage and labor laws. Email us at admin@chicagourbanpets.com and we will connect you to a few reputable solo-sitters.
We do offer hourly petcare where we can stay in your home for an extended amount of time. We charge our hourly rate of $48/hr.
---
DO YOU HAVE BOARDING FACILITIES?
We are not able in any way to take any pets for boarding, and none of our sitters take pets to their own homes.
Email us at admin@chicagourbanpets.com to be referred to company that does offer in-home boarding.
---
HOW DO I SCHEDULE SERVICES?
You can schedule services as soon as you create your free account with us!
We highly recommend downloading the Time to Pet App!
DURING THE VISIT
WILL MY PET RECEIVE INDIVIDUALIZED ATTENTION?
Of course! Chicago Urban Pets offers only private walks to each household thereby guaranteeing each pup and cat gets the complete undivided attention of their sitter. ​
---
DO YOU OFFER SERVICE FOR PETS OTHER THAN DOGS AND CATS?
We do! Although we specialize in cats and dogs, we are able to care for guinea pigs, hamsters, bunnies, birds and more.
If you are unsure if we are able to care for the species of your pet, you can email us at admin@chicagourbanpets.com or call us at ‪(872) 529-7387‬
---
CAN SERVICES BE SHORTER THAN 30MIN?
We can stay shorter than 30min, but the rate would not be reduced to reflect a shorter visit time.
---
CAN YOU ADMINISTER MEDICATION (INJECTIONS TOO)?
Chicago Urban Pet's does not train their staff on how to administer medication. We are happy to do it if it's an easy process. We do not administer injections.
---
HOW DOES YOUR SITTER DISCIPLINE MY DOG?
Chicago Urban Pets are not dog trainers, but we do believe in positive reinforcement with all of our pups. This means we focus acknowledging what they do right, and not condemning unwanted behavior.
Our focus during walks is to keep your pup happy and safe.
​Please feel free to instruct us of any commands or preferences you may have when walking your dog. For example we can sit with your dog when waiting for a green light or the elevator. We can maintain their position on a specific side of our bodies outside. We can use certain commands to have them pee or poop, just to name a few.
---
DO YOUR SITTERS EVER LET DOGS OFF THEIR LEASH?
We will only let your dog off leash if you have specifically requested it and when we are in an enclosed dog park.
---
SITTERS
WHAT IS YOUR VETTING PROCESS FOR YOUR SITTERS?
When hiring sitters for Chicago Urban Pets we have a clear protocol that we follow.
You can learn more about our vetting process here.
---
WILL I ALWAYS HAVE THE SAME SITTER?
When enrolling in regularly scheduled dog walking we will assign your pup(s) a "team". This could be a single dog walker, or 2-3 dog walkers depending on the amount of scheduled visits.
Usually dog walks that are either M/W/F or Tu/Th have the same dog walker. If you have 5 walks/ week M-F you can expect 2 dog walkers. If you are scheduling morning, midday and evening visits, you can expect a bigger team for your pup.
If you are scheduling cat sitting, your assigned team will be dependent of the days you are gone and the time of day.
We always strive to maintain small teams for our pet families.
---
WHO WILL BE BACK UP IF MY SITTER IS UNAVAILABLE?
If your regular sitter has scheduled time off or calls in sick, another sitter on our team will cover in the meanwhile.
Anyone on our team who is scheduled for your pet will have access to the routine notes via your client account.
---