Chicago Urban Pets in the News
LOOKING FOR A DEPENDABLE CHICAGO DOG WALKER?
Chicago Urban Pets is the company to call! We are a professional dog walking and pet care business that is licensed, bonded, and insured. Our staff of well-trained professionals provides families with much-needed peace of mind all year.
Expertise.com Awards Prize 2022
October 14, 2022
We have been featured again on Expertise.com.
We've been Featured on Go Solo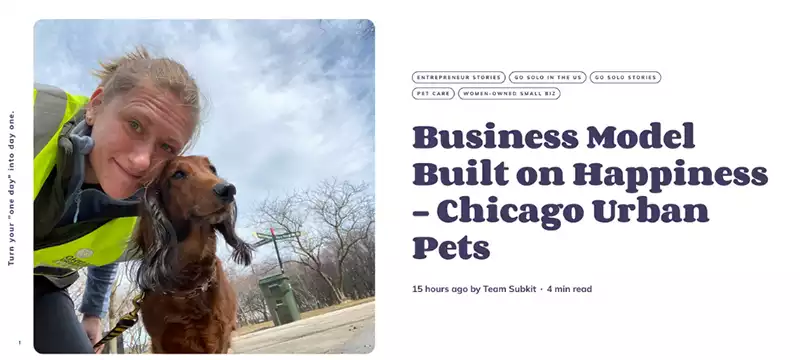 April 20th, 2022
​
I am so excited to have been asked to share my experience and thoughts as an entrepreneur with the Go Solo team over at Subkit. Thank you for letting me share my story. ​
We've Been Featured On Vverge.com Among Preferred Chicago
Pet Sitting Companies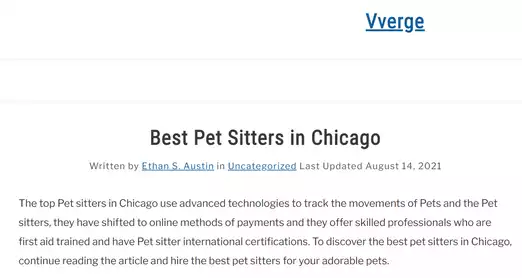 Aug 14th, 2021
Chicago Urban Pets, LLC (CUP) was established in 2013 by Stephanie Fumanelli, a young woman who sought to create a pet care service that focused on better communication between the pet sitters and the pet families. Services include daily dog walking, cat sitting and vacation care. In the past 9+ years over 600 families in the downtown area of Chicago have enjoyed their services.
Pet care providers at CUP are thoroughly vetted and trained. Communication after visits include beautiful images of the pets and detailed email reports sent in real time via the pet sitting platform Pet Sitter Plus.
We've been Featured in Block Club Chicago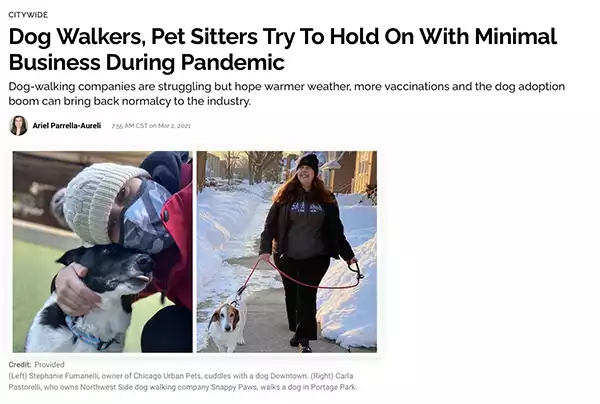 May 2nd, 2021
​
Chicago Urban Pets, which works in the Downtown area, got a Paycheck Protection Program loan, as well. But owner Stephanie Fumanelli — who is also a professor at the School of the Art Institute — said financial loss was only one of the problems brought on by the pandemic.
We Are Truly Honored to Be Featured in the Voyage Chicago
Meet Stephanie Hjelte Fumanelli of Chicago Urban Pets in River North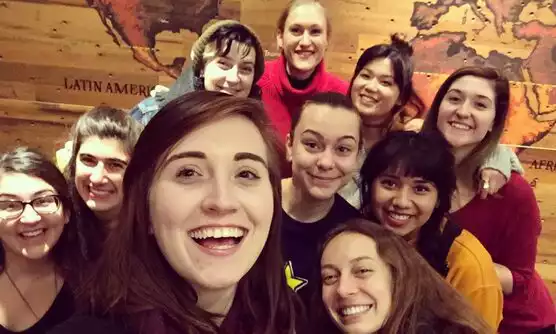 May 21st, 2017
​
Today we'd like to introduce you to Stephanie Hjelte Fumanelli.
Stephanie, let's start with your story. We'd love to hear how you got started and how the journey has been so far.
I started Chicago Urban Pets 9 months after graduating with a Bachelors in Architecture from the Illinois Institute of Technology. I knew I didn't want to work an 8am-5pm job and I definitely enjoyed a lifestyle where I could be my own boss. Architecture & Design is a big part of my life and together with my design partner we started to enter architecture & design competitions.
Once some of my life's puzzle pieces post-graduation started coming together, I realized that I missed interacting with animals. I had always had pets in my life; dogs, cats, rabbits, hamsters, birds and even horses. This prompted me to seek out pet sitting jobs which resulted in me founding Chicago Urban Pets in March 2014.
Did you know we were in the Local Chicago News?!
May 27st, 2015
​
(CBS) — In the wake of a viral video showing a professional dog-walker abusing a Chicago pet, CBS 2 asks: What qualifications are necessary to set up one of the businesses?
CBS 2's Dana Kozlov reports.
Stephanie Fumanelli is walking and training – not dogs, but a potential dog-walker for her business, Chicago Urban Pets.
It's part of her screening process for her licensed, bonded and insured business. It's just one business in the otherwise exploding dog-walking industry.
"It's boomed so quickly, I think a lot of people are trying to get away with making a lot of money," Fumanelli says.
The social media outrage over of a surveillance video of a dog-walker kicking a puppy in his care raises questions about what requirements are needed to open such a business. The answer: not many.
Jennifer Hayes, general manager of Green Paws Chicago, says dog walkers can get a city business license, but beyond that, nothing else is required. Her advice to people looking to hire a service is this: "Do your research. Get on the internet, get on Yelp, ask your friends."
Specifically, check to see if a service is licensed and insured. Ask about the business's training and interview procedures. And find out if they do employee background checks.
Fumanelli and Hayes say it's also important to ask how a business trains its walkers.