As the crisp autumn air settles in and leaves begin to transform into a breathtaking red, orange, and gold, there's no better time to embark on a fall trip with your loyal canine companion.
From strengthening your bond with your four-legged friend to enjoying the great outdoors together, we'll delve into the reasons why a fall-themed trip with your dog is an experience you won't want to miss. Join us as we preview key points that will help you plan a memorable and enjoyable excursion that both you and your canine friend will cherish.
Packing Essentials for Your Pup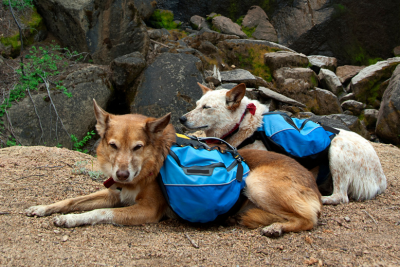 Here are the top 10 items you should bring along for your fall hiking adventure:
Leash and Harness: A sturdy leash and a well-fitted harness are essential for keeping your dog under control during the hike.
Identification and Proof of Vaccinations: Always carry your dog's identification tags and proof of vaccinations.
Water and Travel Bowl: Pack enough water for your pup and a collapsible travel bowl to make it easy for them to drink. Remember to take regular water breaks on the trail.
Dog Food and Treats: Bring along your dog's regular food and some extra treats to keep their energy up during the hike. Consider portable, lightweight food containers to minimize bulk in your backpack.
Poop Bags: Responsible pet ownership includes cleaning up after your dog. Carry an adequate supply of poop bags to ensure you leave no trace on the trails.
First Aid Kit: Accidents can happen, so be prepared with a canine-specific first aid kit. Include items like antiseptic wipes, bandages, tweezers, and any medications your dog may need.
Weather-Appropriate Gear: Depending on the weather, pack gear such as a doggy raincoat or a warm sweater to keep your pet comfortable.
Towel or Blanket: A towel or blanket can be handy for drying off your dog if they get wet, providing a comfortable resting spot, or offering shade during rest breaks.
Dog Backpack: If your dog is capable of carrying some of their essentials, invest in a dog backpack. This not only lightens your load but also gives your pup a sense of purpose on the hike.
Collapsible Dog Bed: For overnight trips, a collapsible dog bed provides your pet with a comfortable place to sleep. It helps them feel secure and well-rested for the next day's adventures.
Hiking Recommendations for You and Your Pup
When you think of hiking, Chicago might not be the first place that comes to mind, but the city and its surrounding areas offer some fantastic fall hiking options. Here are a few of the best hiking trails to explore in the Chicago region during the autumn season:
Starved Rock State Park, Illinois:

Location: Just a 90-minute drive from Chicago, Starved Rock State Park boasts breathtaking canyons, waterfalls, and forests along the Illinois River.
Difficulty Level: Trails range from easy walks to moderate hikes, making it suitable for all levels of hikers.
Length: There are over 13 miles of well-maintained trails, with options for shorter or longer treks.
Dog-Friendly Features: Leashed dogs are welcome on most of the trails at Starved Rock State Park, allowing you to enjoy the fall foliage with your furry friend by your side.

Waterfall Glen Forest Preserve, Illinois:

Location: Situated in the western suburbs of Chicago, Waterfall Glen is a hidden gem offering serene hiking experiences.
Difficulty Level: The trails here are generally easy to moderate, with gently rolling terrain.
Length: The preserve features a 9.5-mile loop trail around a picturesque lake, but shorter options are available.
Dog-Friendly Features: Dogs on a leash are welcome, and they'll enjoy exploring the wooded areas and the scenic shores of the lake.

Indiana Dunes State Park, Indiana:

Location: Located about an hour and a half from downtown Chicago, Indiana Dunes State Park offers pristine beaches, dunes, and forests along Lake Michigan.
Difficulty Level: The trails vary from easy strolls along the beach to more challenging hikes in the dunes.
Length: There are over 16 miles of trails to explore, each offering unique views of the lake and surrounding landscapes.
Dog-Friendly Features: Leashed dogs are permitted on most trails, and your pup will love the opportunity to play along the sandy shores and explore the diverse ecosystems of the dunes.
Preparing Your Pup for the Trip
Preparing your dog for a hiking trip is a crucial step to ensure a safe and enjoyable adventure for both you and your furry friend. Proper training and understanding your dog's limitations are key aspects of this preparation. Firstly, training your pup for hiking is essential. Start with basic obedience commands like "sit," "stay," and "come," as these will be invaluable on the trail. Leash training is also vital, as you'll often encounter other hikers and wildlife, and a well-behaved dog on a leash is safer for everyone.
Additionally, expose your dog to various outdoor elements such as different weather conditions, noises, and wildlife encounters before embarking on a more challenging hiking trip. Training your dog to wear a backpack for carrying their essentials can also be beneficial, but ensure the load is appropriate for their size and fitness level.
Furthermore, it's crucial to know your dog's limitations. Just like humans, dogs have varying fitness levels and abilities. Some breeds are more suited for strenuous hikes, while others may prefer gentler trails. Pay attention to your dog's age, health, and overall condition. Puppies, senior dogs, and those with certain medical conditions may have different needs and restrictions.
Check Out Our Other Blogs on Dog Training Skills:
Let the Adventures Begin!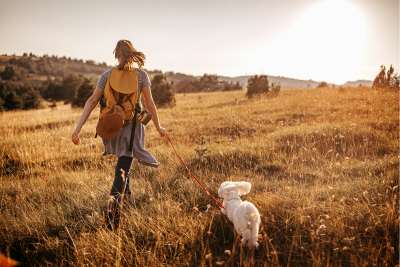 Embracing the beauty of fall while spending quality time with your furry friend is an experience that enriches both your lives. The vibrant colors, crisp air, and the joy of exploring the great outdoors together create unforgettable memories. As you embark on your fall foliage adventures, consider sharing your experiences with the community to inspire others to do the same. Encourage others to grab their leashes, lace up their hiking boots, and immerse themselves in the splendor of autumn with their beloved pets. Together, we can celebrate the wonders of this magical season.