Starting a business is no easy feat, especially when you're navigating a new language and culture. For many non-native English speakers, the thought of conducting a full interview in English can be daunting. But one business owner proved that stepping out of your comfort zone can lead to great things.
Interestingly, the connection that led to this interview was made through another business owner. Maria, from Plant Stand Collective, who had collaborated with Leah in the past.
It's amazing how small connections like this can lead to new opportunities and experiences. By collaborating and supporting each other, business owners can build strong networks and help each other grow.
==>LEARN MORE ABOUT OUR DOG WALKING SERVICES<==
How Did Choc Choc Get Started?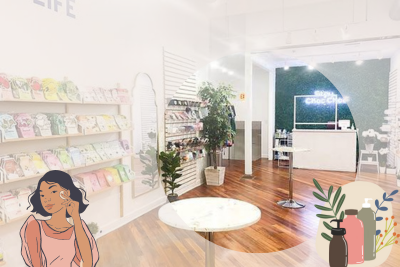 Have you ever heard of the term "Choc Choc" in relation to skincare? If you're not Korean, it might be a foreign concept. But for one Korean-American entrepreneur, it's the foundation of her successful business.
The founder of Choc Choc, Leah, arrived in the USA as an international student 10 years ago. Her mom used to send her Korean skincare products, and her American friends were always intrigued by them. They loved the results and asked to try them out.
Realizing the potential, Leah decided to start a business and introduce Korean skincare to a wider audience in the USA, even though at the time, American beauty was more focused on makeup than skincare. She rented a small place on Belmont and started with a small collection of Korean skincare products.
The founder's passion for Korean skincare was evident from the start, and she was thrilled to teach her customers the Korean 10-step skincare routine. Over time, her business grew, and she expanded her collection of products.
But with the growth of her business came the need for an online store. The founder realized that an online presence would allow her to reach a wider audience and serve customers outside of her local area. So, she launched her online store, allowing customers from all over the country to access her curated collection of Korean skincare products.
–>Check Out Choc Choc's Online Store<–
Today, Choc Choc Korean Cosmetics is a thriving business that offers a wide variety of Korean skincare products, from sheet masks to serums to cleansers. Their online store has made it easier than ever for customers to access their products, no matter where they live.
The founder's journey from student to business owner is a testament to the power of passion and determination. She saw a need for Korean skincare products in the USA and was determined to fill that gap. And through hard work and dedication, she has built a successful business that continues to thrive today.
Choc Choc is Not a Candy Store
Have you ever walked by a store and assumed it was one thing, only to find out it's something completely different? That's the case with Choc Choc, a popular beauty store that some people still mistake for a chocolate shop.
The confusion likely stems from the store's name, which is derived from the Korean term for "moisturized skin." But for those who aren't familiar with Korean skincare, the name might sound like it belongs to a candy store.
Leah opened the location on Belmont seven years ago. After three or four years, they moved to a larger location on Broadway.
Some people still walk in expecting to find chocolate. The confusion is understandable, as the previous tenant in the space was a chocolate shop. But once customers realize they're in a beauty store, they're often pleasantly surprised.
In fact, there are some funny reels on social media of people's reactions when they realize Choc Choc isn't a chocolate shop after all. But the founder takes it all in stride and is happy to educate people about the benefits of Korean skincare.
What Is One Thing You'd Love Our Neighbors In Lakeview East To Know About The Business?
When it comes to skincare, it's not always easy to know where to start or who to ask for advice. That's why the founder of Choc Choc Korean Cosmetics wants her store to be a comfortable and welcoming place for everyone to talk about their skin concerns.
"I always hope that Choc Choc is going to be the most comfortable place that everyone can talk about their skin," Leah said. "We want all the neighbors to know that you guys are all welcome to come and to talk about your skin concern."
At Choc Choc, the staff is well-educated and ready to recommend the best skincare routine for each customer. And in addition to carrying a wide variety of Korean skincare products, Choc Choc also has their own product, which the founder participated in manufacturing in Korea.
"It means a lot to us as a small business that we have our own product," she said. "They are like my babies. And our customers are very happy to support the small business. So I'm very appreciative."
Other Women-Owned Businesses in Lakeview East
Donating to the Community
It's not just customers who appreciate Choc Choc's commitment to quality skincare products and personalized service. The store has also made donations to local fundraisers, including a school fundraiser where they donated products for a gift basket.
"A lot of small businesses on Broadway donated baskets which is awesome," Leah said. "We're proud to be a part of this community and to support our neighbors."
–>Learn more about our Broadway Buddy Giveaways in Lakeview East<–
Are You More Of A Dog Person Or A Cat Person?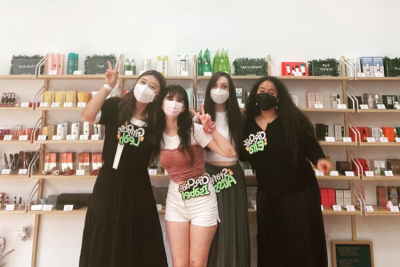 When it comes to the age-old debate of cats versus dogs, everyone has their own preferences. For some, it's the independent nature of cats that draws them in. For others, it's the playful and loyal companionship of dogs that wins their hearts. As for Leah, she said she is definitely a dog person, and it's all because of their unique personalities.
"I've always loved corgi's and identified with their quirky and outgoing style. Dogs are always ready for a good time, and they're not afraid to be a little bit silly. Whether it's chasing their own tails or barking at their own reflection in the mirror, dogs always seem to be having a good time" said Leah.
You Might Also Be Interested In:
What Is The Best Way For Our Audience To Connect With the Store?
If you're in the neighborhood, don't hesitate to stop by and say hi. The store is open Monday through Saturday.
But if you can't make it in person, Choc Choc is also very active on Instagram @choc_choc_us. Feel free to DM them, and they'll reply as soon as possible. It's the perfect way to connect with a small business that's all about skincare and community.