Well Melissa, thank you so much for joining me here for this interview. I I'm really curious about the business model that you have because it seems very unique. I imagine it must come from a very personal place. How did you get started in this industry?
How Did Bottles Up Chicago Get Started?
It started with a dream. No really, it kind of did. Like you said, it came from a very genuine personal place. My background is in marketing and communications, public relations specifically. So I right outta college, wine being my drink of choice and working in the PR world just found there to be a lot of overlap with those, you know, human stories and connections. Wine was always at the center of that world. I was working at a small PR firm in Chicago, and getting more into wine at the same time.
After studying abroad my junior year of college, that's kind of when that love started. And I got it in my head that I wanted to open my own shop someday.
It was one of those epiphanies, walking down Michigan Avenue to my job and being like, yeah, that's what I'm gonna do; I am going to open my own wine shop. I had no experience and just started working from the bottom, and worked my way up to Bottles Up.
It took me 10 years of working and getting experience before opening Bottles Up.
==>LEARN MORE ABOUT OUR DOG WALKING SERVICES<==
So What Was Starting At The Bottom Like?
I was hired part-time at this wine shop and bar in the suburbs of Chicago. This couple that owned it really just took a chance on me. I pretty sure I got all the questions wrong that she asked me in regards to wine, but we really hit it off. So thanks Terry and Brian, I always give them shout outs because they set me on this path and they showed me how fun it can be. They taught me how to run a business from a place of kindness. They were just the nicest people to work for and with.
It's amazing how there's really some people that change the course of our lives.
Yeah, absolutely.
Sometimes we are those people too, right? I guess that's where the power of community comes in and how we all have such active roles in shaping other's experiences.
What Is One Thing You'd Love Our Neighbors In Lakeview East To Know About Your Business?
Creating community is our purpose and the shop's goal. I just want Bottles Up Chicago to be a happy part of people's lives and a happy part of the neighborhood. I think that as a shop owner, being active in the neighborhood is very important to me. But I also think from a human standpoint, it's just kind of what I strive to do in my own way. Whether it's shopping small and having conversations with other shop owners in the neighborhood, actively thinking of new events to do and partnerships to form.
We call ourselves a Bottle Shop and Experience – and the experience part is really important. We believe in retail-tainment, so we are entertainment and retail. I think that has been very well received in the community and has fostered more community.
Could You Give Us An Example Of A Few Popular Events?
Sure. Yeah. I mean it's always a combination of trying new things together with the older established ideas. For example: last night my husband had his "Dumb it down with Danny" class. He's a civil engineer but has been with me my whole career in wine, so he's picked up a few things. This class we created is a fun wine 101. It gets a little crazy at the end, but it's always a good time. It's just a safe space for people to ask questions and learn.
And then in terms of new events, we're always doing new things. Like this week on Tuesday we did our first collaboration with Dry Hop which is the micro brewery and restaurant across the street from us. We did a beer versus wine dinner and that was the first time we had done anything with them. It was so fun and we had 62 people show up.
I have always been a "yes woman", and have become even more so after the Pandemic when all we were hearing was no. So when people come to me with ideas, It's kind of fun to be like, yeah, let's try it. You never really know what's gonna be successful unless you just kind of give it a whirl.
You might also be interested in:
Are You More Of A Dog Person Or A Cat Person?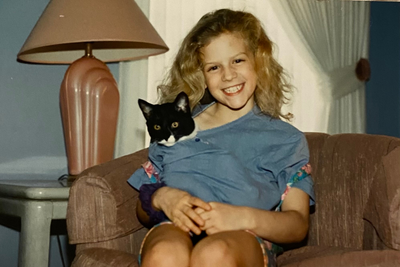 We don't have any pets right now, besides our two fish at the shop. They're called Cork and Scroo. We don't have pets just because as a small business owner I'm always at the shop and we wouldn't be around that much for the animal so it wouldn't be fair to them.
I do feel like I have a hundred dogs because we're dog friendly at the shop, so people bring their dogs in all the time. We certainly get to know everyone's fur kid. I grew up with a cat, his name was Phantom and he was the best. So I am definitely a cat person. But I feel like it's one of those things that I don't tell people a lot because sometimes it feels like, I don't know, people judge you when you say that, Chicago is just such a dog city.
No, no judgment at all. I think, you know, deep down, almost everybody loves dogs because they're just so happy go-lucky and so loving. Cats are amazing though, so I totally understand the cat angle.
I think my cat Phantom was more like a dog. He would come to the door and greet you and crawl over people, he was the best. I was obsessed with Phantom of the Opera growing up, so I had the name before I had the cat and I was looking for a cat with one half of its face white. It took me a while, but we found him. He was with us for 15 years.
What Is The Best Way For Our Audience To Connect With You?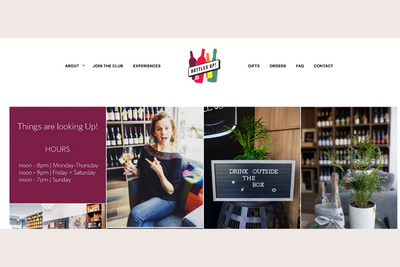 We're most active on Instagram and more so stories, that's where we tell people about a lot of the events that we have coming up. Our handle is @bottles_up_chicago I also send a monthly newsletter out, you can sign up on our website. It lists everything that is coming up at Bottles Up Chicago.
Coming into the shop is the best way to chat. I think other small independent shops feel the same way. It's just like coming in the door and fostering a relationship with the business owners in your neighborhood is a beautiful thing. More people should feel comfortable doing that. I just wanna be friends with everybody.