If you are a cat parent and looking for cat sitting services in the Chicago area, you're in luck! There are plenty of qualified professionals to choose from. However, it's important to do your research and ask the right questions before hiring someone to come to your house.
In this blog post, we'll give you some tips on how to find a cat sitter who is a good fit for your feline friend. We'll also discuss some red flags to watch out for so you can avoid scams or bad experiences.
3 Top Tips Before Starting Your Cat Sitter Search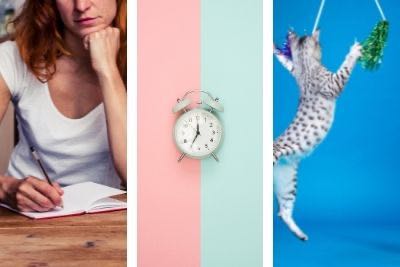 If you're looking for a cat sitter in Chicago, there are a few things you can do to get started. First, be clear of what type of cat care services you will need.
Outline Your Cat's Care Routine
The basics are feeding, litter box cleaning and some playtime. If your cat has special needs, outline those immediately. You need to ensure the cat sitting service you reach out to can accommodate requests outside of basic cat care.
Visit Frequency
You also need to decide how many visits you will want to schedule for your cat on a daily basis. We at Chicago Urban Pets highly recommend scheduling visits that align with your cat's normal feeding hours. Often this is 2x daily, once in the morning and then again in the evening.
If you want to reduce the cost and schedule a single daily visit, there are a ton of great feeding timers that will disburse the cat food at that second time of the day.
Visit Length
Last, you'll need to decide on the length of visits to schedule for your cat. Normally Cat Sitting Services in Chicago offer 30min, 45min or 60min visits. The length of visit should be determined by how social your cat is but also how complex their care routine is.
Looking For Cat Sitting Services In The Chicago Area?
SIGN UP FOR PURRRRRR QUALITY CAT CARE TODAY!
Where Can I Find Cat Sitters in Chicago?
Now that you know what type of cat sitting services you need, it's time to find out where the pool of trusted cat sitters are.
Family and Friends
The first place to check is with your family and friends. They may have used a professional cat sitter before and can give you a good referral. If they haven't used a professional cat sitter, they may still be able to give you some good leads.
Yelp
Another great place to look for professional cat sitters is online. Yelp is a great website to check for reviews of local businesses, including professional cat sitters. Just do a search for "cat sitting" in your area and see what comes up.
A pro tip- Most companies that have a dog walking related business name, also offer cat sitting services.
Google
Finally, don't forget to check Google and the websites of any professional cat sitters you're considering. Google reviews can be very helpful in getting a sense of what others have thought about a particular business.
Once you've gathered all this information, you'll be well on your way to finding the perfect professional pet sitter for your cat's specific needs!
What to look for when hiring a cat sitter
There are some special requirements that pet owners need to keep in mind when seeking kitty services. Take notes here so you can quickly scan through the crowd of cat sitters to find your perfect match!
Communication Skills
First and foremost, you'll want someone who is great at communicating. After all they are all cat lovers, but if they can't communicate clearly with the cat parents, that is a problem.
You should expect them to be replying back to you within 6-12 hours while reaching out and preferably answer within an hour while you are away.
Experience in Cat care
You will want to choose someone with plenty of experience caring for cats. If it is a company, you can ask how they train their employees during onboarding.
Check out their About Us page on their website, preferably they should be atleast 2 years in business. You can also straight out ask them about their experience during the initial phone call or email.
If your cat has special needs that require a higher level of experience, your options for cat care will be more limited. We recommend checking with your vet if they offer any in-home services.
Ask for References
The company should be performing background checks, and be able to provide references from past clients. This will give you an idea of their work ethic and whether or not they're reliable.
Make sure to ask for at least three references, and preferably contact them yourself rather than just taking the company's word for it before going on vacation.
Benefits of a professional cat sitter vs a friend cat sitter
If you're considering hiring a professional cat sitter instead of asking a friend to cat sit, congratulations!! You are soon to find out how fun it is to have a professional service come to your home. Below are 3 reason.
Professional Services know what you need
Professional cat sitters knows exactly what kind of information you'd like to know about your cat while you're away. They will make sure to have all the cat care details needed before your tirp, and you can expect alot of sweet photo's and detailed reports when a professional service is hired.
Many petsitting apps will also alert you to when they arrive so you know exactly when to expect the report.

Professional Services will be more considerate
Friensd are used to being in your home. They are more likely to leave used cups in the sink, turn the tv on or forget some of the smaller details you asked about (i.e please check the little water cup on the bathroom sink your cat loves to drink from).
Professional services will be extra cautious in handling your home, and are trained to remember the small details of your cat's care, not just the big stuff.
Professional Services are bonded & insured
Professional cat sitters are always bonded & insured in case something happens to your cat or home while in their care (if they are at fault).
It is uncommon that something bad does happen, however you can travel stress-free knowing an insurance is in place for when the unexpected occurs.
How to make sure your cats are safe and happy while you're away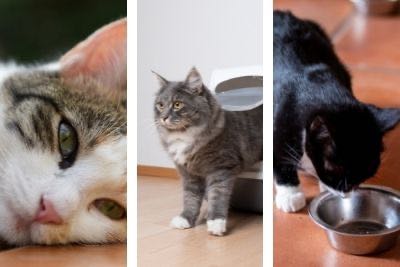 Any cat parent knows that leaving their feline friend behind can be difficult. After all, cats are creatures of habit and they often don't take well to change.
That's why it's important to do everything you can to ensure your cat is safe and happy while you're away, (or at least as happy as possible).
Is your cat behaving itself?
First, make sure your cat sitter sends you regular visit reports, complete with photos. This will give you a sense of how your cat is doing and whether they are acting their usual selves.
Note if your cat is behaving their usual self with the cat sitter. For example if they love cuddles, are they coming out for affection? If they love sunbathing by the window, is your cat sitter reporting them still enjoying those same things.
Keep in mind that cats are very sensitive to change in their routine, so it is not at all unusual that they adjust some of their habits slightly while you are gone.
Is your cat using the litter box regularly?
Second, pay attention to the litter box. Is your cat using it regularly? Your cat sitter should be scooping both pee and poop in the box daily and the poop should be no softer than soft serve ice cream. In fact it can often appear hard due the sand absorbing all the moisture.
Another indication that your cat is upset is if they start going potty outside of the litter box although its clean. If this happens it can be a sign your cat feels irritated at the circumstances and maybe even lonely. Consider extending the visit length or adding a second visit daily for additional face time.
Is your cat eating normally?
Cats all have their preferred eating habits, some eat all at once while others graze throughout the day. Make sure you are familiar with your cat's preferred eating habits, so that you will notice if they don't seem to be eating at the same frequency.
These are all important indicators of your cat's health and happiness. By following these simple tips, you can rest assured that your cat will be just fine while you're away.
Red flags to watch out for when hiring a cat sitter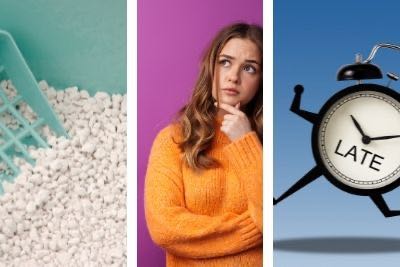 When you're looking for a cat sitter, it's important to be on the lookout for red flags. These are signs that the cat sitter may not be a good fit for you or your cat. Here are 3 main flags to look out for.
Lack of knowledge
For example, if a potential sitter seems confused when you show them standard cat care instructions, that's a red flag.
A cat sitter should be familiar with a variety of litter box designs, they should know that cats often eat a combination of wet and dry food and understand that your cat might not come out right away with strangers.
Lack of Interest
Similarly, if they don't seem interested in your cat when meeting you for the first time that can be a red flag too.
A cat sitter should be kneeling down and trying to connect with your cat if they appear. An interested cat sitter will ask you questions about the cat and take interest in her background.
Bad time-management
Last, If a potential sitter shows up over an hour late with no notice, or if they have to reschedule your initial meeting last minute, that's another red flag.
Trust your gut – if something feels off, it's probably best to move on to someone else. By being vigilant and paying attention to red flags, you can help ensure that your cat is in good hands while you're away.
Finding Cat Sitting Services Doesn't Have To Be Hard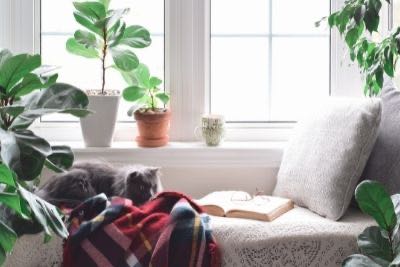 Cat sitting can be a daunting task, but luckily, there are plenty of resources available to help you find the perfect sitter for your feline friend.
By following our tips and being aware of the red flags to watch out for, you can rest assured that your cats will be safe and happy while you're away. Thanks for reading!
Want to learn more about Chicago Urban Pets cat sitting services?
Looking For Cat Sitting Services In The Chicago Area?
SIGN UP FOR PURRRRRR QUALITY CAT CARE TODAY!