Today, we have the pleasure of interviewing the founder of Happy Tails Academy, Ronnie , who will share her journey from humble beginnings to becoming a trusted name in the industry. Join us as we explore their passion for working with animals and her drive to understand the complex behaviors of our beloved furry friends.
How Did Happy Tails Academy Get Started?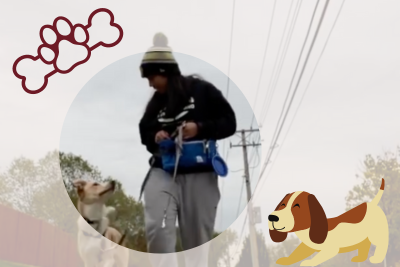 Ronnie's journey began in 2019 when she first started working in a regular dog daycare facility. It was during this time that her passion for working with animals started to take root, and she became increasingly curious about the behavior patterns exhibited by dogs.
Intrigued by the "why" behind dogs' actions—whether it was jumping on people, snatching food, or reacting in certain situations—Ronnie felt compelled to explore the behavioral side of dog training further. Eager to delve deeper into this fascinating subject, she sought opportunities to expand her knowledge and gain a better understanding of canine behavior.
Launching Happy Tales Academy
With her skills honed and their confidence soaring, Ronnie made the decision to establish her own dog training business in the vibrant city of Chicago. This was an opportunity to channel her skills, knowledge, and love for animals into a service that could benefit others seeking guidance in understanding and training their furry companions.
==>LEARN MORE ABOUT OUR DOG WALKING SERVICES<==
What Would You Like Our Community to Know About Happy Tails Academy?
One aspect that sets Happy Tails Academy apart is their dedication to making dog training affordable for everyone. Ronnie takes pride in offering sliding scale training services and payment plans to cater to individuals who may face financial limitations.
Happy Tails Academy reserves a limited number of spots each month for sliding scale training services. This initiative allows individuals with financial constraints to access professional training at a reduced cost. By offering flexible pricing options, the academy aims to ensure that no dog owner is left without the assistance they need to address behavioral issues and build a harmonious relationship with their pets.
Understanding that certain training programs, such as separation anxiety, may involve higher costs, Happy Tails Academy also provides payment plans. This allows individuals to break down the financial burden into manageable installments, making comprehensive training programs more accessible and affordable.
Enjoying This? Check out Some Other Blog Posts:
Catering to the Community
Situated in the Lincoln Park and DePaul area, Happy Tails Academy recognizes the presence of college students and young adults who may be financially constrained. The academy strives to support those who are juggling the expenses of college while caring for their pets. Recognizing that dog training is not just a luxury but often a basic necessity, she aim to eliminate the financial barriers that prevent people from seeking professional guidance.
What is One Thing Pet Parent's Can Do Today to Help with Separation Anxiety?
The key to mitigating dog anxiety lies in understanding and managing the specific triggers that induce fear or stress in our canine companions. By identifying these triggers, owners can take proactive steps to reduce their occurrence. For example, if loud noises, such as passing trains, trigger anxiety in your dog, consider altering your route or schedule to avoid these situations when possible.
While professional help should be sought for severe cases of anxiety, there are practical steps dog owners can take on a daily basis to help manage their pet's anxiety. Consistently working to reduce exposure to triggers can significantly impact anxiety levels. Whether it involves avoiding crowded areas, loud noises, or other anxiety-inducing stimuli, these small adjustments can make a big difference in your dog's overall well-being.
Relaxing Items for Your Dog:
The Power of Incremental Progress
Striving for perfection in avoiding all triggers may not always be feasible. However, making a conscious effort to gradually decrease the frequency and intensity of encounters with anxiety-inducing stimuli can still yield positive results. Aim to minimize triggers once or twice a day or whenever opportunities arise throughout the day.
What's the Best Way for a Pet Parent to Reach Out to You?
To connect with Ronnie she recommends visiting the website, happy-tails-academy.com, where detailed information about the academy can be found. Additionally, Ronnie can be contacted via email at happytailsacademy@outlook.com. Whether seeking assistance with dog training or wanting to inquire about their sliding scale services, reaching out through the website or email is the perfect way to start the journey towards a happier and healthier relationship with your beloved pet.