We understand that as clients, you may have numerous questions when it comes to dog walking and pet sitting services and scheduling procedures.
From the initial steps of requesting our services to the intricacies of scheduling appointments and managing timelines, we aim to shed light on every aspect of our procedures with this easy to read FAQ.
Most Pet Parents Ask These 15 Questions About Our Services And Availability
Navigating the world of services and scheduling can sometimes be overwhelming, but we believe that clarity and transparency are crucial in building a strong client-provider relationship. In this blog post, we will cover 15 of the most common questions our clients have asked us over the years.
By the end of this blog post, we hope to equip you with the knowledge and understanding necessary to make the most of our services and scheduling procedures.
Like This Blog? You May Also Enjoy These:
#1 Do You Service My Area?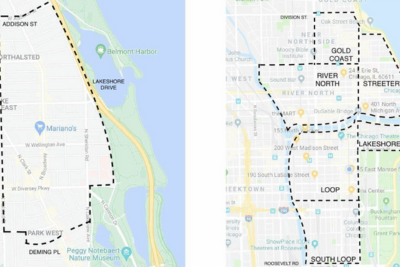 Our service area is based on access to public transportation as well as how established we are in each neighborhood. We walk or take public transportation to reach you. We service the South Loop, the Loop, River North, Streeterville, Gold Coast, Lakeshore East, NE Lincoln Park and Lakeview East.
If you're in one of these awesome neighborhoods, we're ready to serve you!
#2 What Services Do You Offer?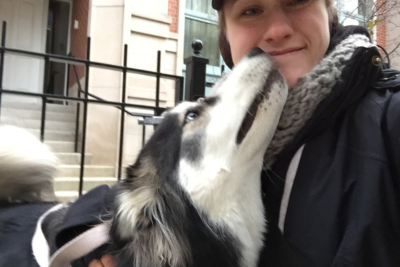 Our services include weekly dog walking which ensures that your dogs stay active, happy, and well-socialized. It's also our most popular service! For those times when you need an extra hand we offer occasional drop-in visits. When you're away from home, our pet sitting services ensure that your dogs and cats receive the love, care, and companionship they need. We also have an almost overnight service designed to give your pets extended care and attention while you are enjoying your time away!
#3 Can You Come Walk My Dog at 10pm?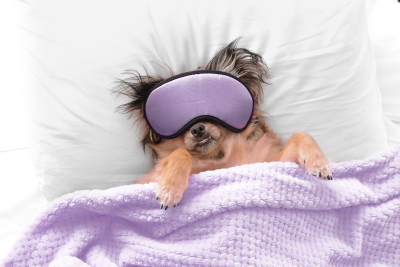 Our normal hours are between 9:30am and 4:30pm. We are unable to come at 10pm and the latest we could arrive your home is 7pm with limited availability. This is to ensure our staff's safety and to provide the best service for your pet!
#4 How Much Advance Notice Do You Need For Scheduling?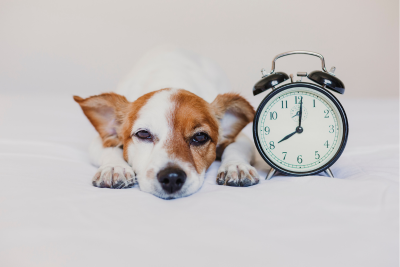 If you are already in our system we can almost always guarantee availability up to 4pm the day prior. If you are needing a petsit, we ask for 3 day notice.
If you are a new client we suggest 7 day notice to ensure we have time to schedule our discovery call and get all the pet care instructions to ensure an easy travel time for you!
#5 Can You Come at an Exact Time?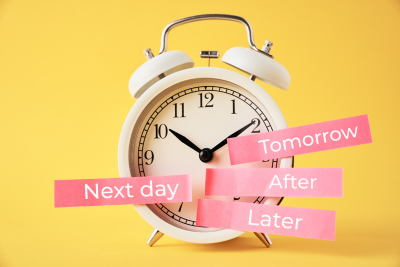 We require a 2 hour window for arrival with the exceptions related to pet's age and health.
With certain exceptions we are able to narrow our arrival down to 60min arrival window. This is to take into account the commute time our staff has between other visits that day. This ensures your pet is receiving the best care possible!
#6 How Will I Know if the Walk Has Been Completed?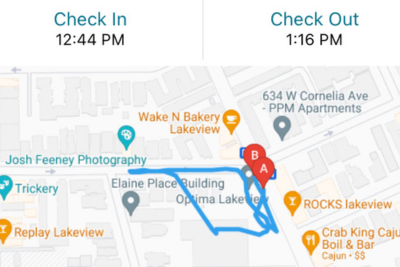 If you have the Time to Pet App, you will get a notification when the pet sitter checks into the visit. Then, at the end of the visit, the after visit summary provides a detailed report and adorable pictures, ensuring you know when the service has ended and giving you peace of mind. It will also give you a GPS map of where the pet sitter clocked in and out of the visit.
#7 How Do You Know Your Staff is Reliable?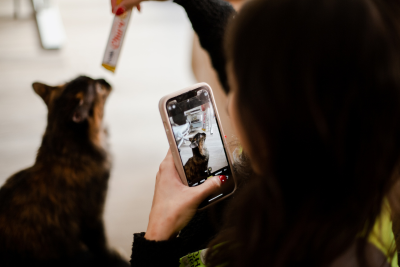 Our staff's reliability is a result of consistent training and a strong management team. Ongoing training keeps them up-to-date, while effective communication through Slack ensures high standards and accountability. This combination allows us to deliver dependable service to our customers!
#8 How Do I Communicate with the Petsitter?
We use the app Time To Pet, which allows our clients to have a seamless way to communicate with their assigned pet sitter. They can send messages, share important instructions, and receive updates and photos for the visit. This user-friendly platform ensures clear and convenient communication, providing peace of mind while our pet sitters care for your furry friends.
#9 My Friend's Dog is Staying with Us…Can You Walk Both Dogs?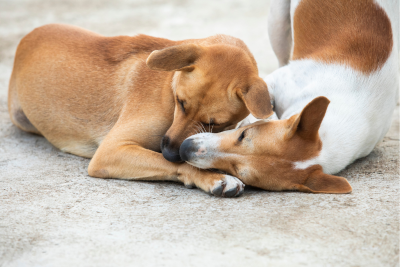 We are happy to walk multiple dogs that are staying in the same home. However, it's important for us to have individual care instructions for each pet to ensure their well-being and safety. During our initial call, we will discuss your specific requirements and gather all the necessary information about each dog. Additionally, we will request information from both owners, including important details such as contact numbers, emergency contacts, and any specific information related to the care of the pets.
#10 My Dog Will Be at a Friend's House While I Travel…Can You Accommodate Other Addresses?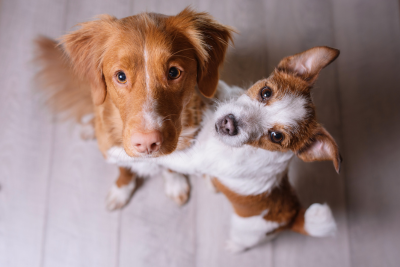 We are delighted to offer our services to care for your dog at another home as long as the address is within our service area! To ensure a smooth and seamless experience, we kindly request that you provide us with the updated address through the Time To Pet platform along with any necessary access instructions.
#11 My Dog is Not Friendly with Other Dogs, Can I still Use Your Services?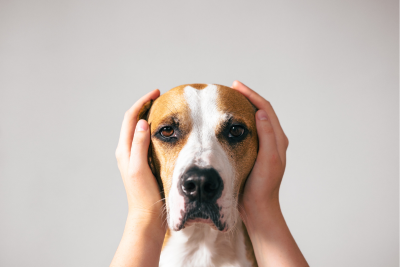 We take safety seriously and always assess how reactive dogs behave. While we do our best to keep them away from other pups during walks, it can be tough in busy areas. We're pretty skilled at handling most reactions, but for those really intense cases, we'll talk to you about different options. If you're not sure about your dog's reaction, just drop us a message on our website, and we can chat on the phone to figure out the best approach.
#12 My Dog Needs Time to Warm Up to People…Can We Have an Introductory Visit and Keep the Same Dog Walker?
Unfortunately, we are not able to accommodate dogs who require an introductory period. The reason is that we work as a team here at C.U.P. We want to ensure that families who choose our services can enjoy the full experience we offer, and that includes having our dog walkers enter their home with ease. This helps create a smooth and enjoyable experience for everyone involved.
#13 Is There an Additional Charge for Extra Pets?
We understand that some pet owners have multiple furry companions who all deserve exceptional care. To accommodate the needs of households with additional cats or dogs, we have an extra pet charge in place. For each additional cat, we have a fee of $3. Similarly, for each additional dog, there is a small fee of $5.
#14 Why is Your Last-Minute Charge so Expensive?
Our last-minute service requests come with an added cost of $30 due to the adjustments and extra time required to schedule our staff. We may need to rearrange schedules as well as respect their time so they can provide their best service for your furry friend!
#15 How Do We Get Set Up?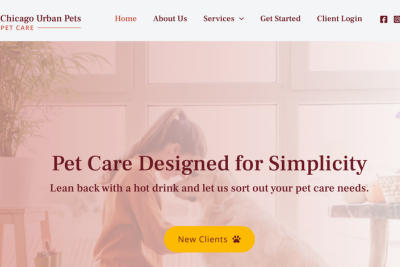 Our onboarding process is a breeze. All you need to do is reach out to us through a phone call or our website. Once you do, we'll schedule a call with you to get everything started! We'll guide you through the process and make sure you're all set up in no time.
C.U.P Is Here For You and Your Pet Care Needs
We hope that this comprehensive guide has provided you with the answers you were seeking regarding our dog walking services and scheduling procedures. By addressing common questions and concerns, we aimed to ensure transparency, build trust, and empower you as a valued client. Remember, our top priority is the well-being and happiness of your furry companions, and we strive to offer a seamless and enjoyable experience for both you and your dogs.
Should any additional questions arise or if you require further assistance, our dedicated team is always ready to provide support. We appreciate your trust in us and look forward to serving you and your beloved pets in the future. Let's embark on this dog walking journey together, promoting health, happiness, and tail-wagging adventures every step of the way!