Spring is finally here in Chicago, and it's time to enjoy the warmer weather and longer days with your furry friend. As a dog owner, you are probably looking for fun outdoor activities to do with your dog this season. Fortunately, there are plenty of options available, from hiking trails to dog-friendly events and parks. Here are some ideas to get you started:
#1 Hiking Trails: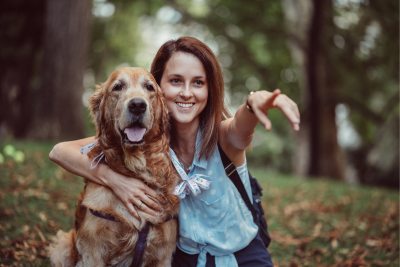 Spring is the perfect time to explore new hiking trails with your dog. Many state and national parks have dog-friendly trails that allow dogs on a leash. Check out AllTrails to find local hiking trails near you. Before you go, make sure your dog is up-to-date on all vaccinations and is wearing proper identification tags.
Hiking Trails Near Chicago
There are several great hiking trails near the city of Chicago that offer a break from the hustle and bustle of the city. Here are three trails that are worth checking out:
Waterfall Glen Forest Preserve: Located in Darien, about 30 minutes southwest of Chicago, Waterfall Glen Forest Preserve features over 11 miles of hiking trails through oak woodlands and along the Des Plaines River. The preserve also has a beautiful 20-foot waterfall and several overlooks with stunning views.
North Branch Trail: The North Branch Trail is a 20-mile trail that runs along the North Branch of the Chicago River, from the Chicago Botanic Garden in Glencoe to the Chicago city limits. The trail offers scenic views of the river and passes through several forest preserves and parks, including the Skokie Lagoons and the Bunker Hill Forest Preserve.
Moraine Hills State Park: Located about 1 hour northwest of Chicago, Moraine Hills State Park offers over 10 miles of hiking trails through rolling hills, forests, and wetlands. The park also has several lakes, including Lake Defiance, which offers fishing, boating, and swimming.
These are just a few examples of the many hiking trails near Chicago. No matter what your experience level, there is a trail for everyone, so get out there and explore!
#2 Dog-Friendly Events: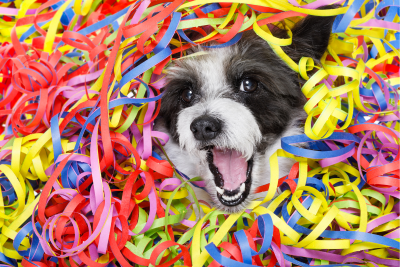 Chicago is a great city to live in or visit with your furry friend, as there are plenty of dog-friendly events happening throughout the year. Here are five dog-friendly events happening in Chicago this summer:
Chicago White Sox Dog Days:
Tuesday, May 22, 2023 (days change every year), the Chicago White Sox host Dog Days at Guaranteed Rate Field. This event allows fans to bring their dogs to the ballpark to watch a baseball game. The dogs even get to participate in a pregame parade around the field.
PAWS Chicago 5K Walk/Run:
The PAWS Chicago 5K Walk/Run is an annual event that takes place in Chicago and is organized by PAWS Chicago, a nonprofit organization dedicated to saving homeless pets. The event aims to raise funds to support the organization's efforts to provide medical care, foster homes, and adoption services to pets in need.
The 5K Walk/Run is open to participants of all ages and fitness levels. Dogs are welcome to join in on the fun with their owners, although they must be kept on a leash at all times. The event typically takes place in the summer, with a course that winds through the scenic Montrose Harbor area.
Did you know Chicago Urban Pets is a sponsor for the PAWS Chicago 5K Walk/Run 2023 (September 9). Fundraising page coming in April….
Chicago Canine Cruise:
Throughout the summer, Mercury Skyline Cruiseline offers the Chicago Canine Cruise, a boat tour of the city's architecture that allows dogs on board. The tour departs from the Michigan Avenue Bridge and lasts 90 minutes.
BARK Fundraiser Anti Cruelty:
BARK Fundraiser is an annual event hosted by Anti-Cruelty Society, a nonprofit organization dedicated to helping pets in need. in 2023 the event is being held May 2, 2023. The event raises funds to support the society's programs, which include pet adoption, spay and neuter services, and humane education.
BARK Fundraiser typically features a silent auction, live entertainment, food and drinks, and, of course, lots of adorable adoptable pets. Attendees can bid on items donated by local businesses and individuals, including vacation packages, restaurant gift certificates, and pet-related products.
#3 Dog Parks:
Dog parks are a great place for dogs to socialize and burn off some energy. All Chicago neighborhoods have a dog park for your furry friend, which is easily found by checking "dog parks near me" on google maps.
Many dog parks have separate areas for small and large dogs, so your dog can play with other dogs of similar size and temperament. Make sure to bring water for your dog and clean up after them for the best experience!
–>7 Best Dog Parks in Downtown Chicago: A Guide for Owners<–
#4 Beaches: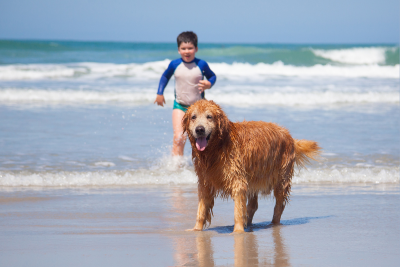 If you live near a beach, consider taking your dog for a walk or swim. Many beaches allow dogs during the off-season or have designated dog beaches. Just make sure to check the rules and regulations before you go.
Dog Beaches in Chicago
Chicago is home to several dog-friendly beaches where dogs can swim, play and socialize with other dogs. Here are five of the best dog beaches in Chicago:
Montrose Dog Beach: Located in Uptown, Montrose Dog Beach is one of the most popular dog beaches in the city. The beach is fully fenced and offers plenty of room for dogs to run and swim. There are also separate areas for small dogs and large dogs.
Belmont Harbor Dog Beach: Belmont Harbor Dog Beach is located on the north side of Chicago, just south of Montrose Beach. This beach is a smaller, more secluded option for dog owners looking for a quieter spot to enjoy the water with their pups.
Puptown Dog Park Beach: Puptown Dog Park Beach is located in the Andersonville neighborhood and is a smaller, fenced-in dog beach. The beach is part of the larger Puptown Dog Park, which features separate areas for small and large dogs.
Evanston Dog Beach: While not technically in Chicago, Evanston Dog Beach is just north of the city and is a popular destination for dog owners. The beach is located at the south end of Evanston's Lakefront Park and features a large fenced-in area for dogs to play in the water.
Whihala Beach: Whihala Beach is located about 30 miles southeast of Chicago in Whiting, Indiana. The beach is open to dogs and their owners, and features a large fenced-in area for dogs to play and swim.
#5 Agility Courses:
If your dog is high-energy and loves to play, consider trying out an agility course. These courses are designed to challenge dogs both mentally and physically, and can be a fun way to bond with your dog. Check out your local dog training centers to see if they offer agility courses.
Places in Chicago That Offer Agility Classes for Dogs:
So Many Options
In conclusion, Chicago offers plenty of fun and exciting opportunities for dog owners to enjoy the great outdoors with their furry friends this spring. From hiking trails and dog parks to dog-friendly events and beaches, there is no shortage of options for you and your dog to explore together.
By taking advantage of these activities, you can strengthen your bond with your dog while also promoting their physical and mental well-being. So, grab your dog and get out there – the possibilities are endless!