Welcome to this exclusive interview with Alicia Zyburt, an extraordinary entrepreneur who worked with her partner Devon Owens to start Bae Coffee Co. Alicia and Devon have taken the coffee industry by storm with their innovative ideas and unwavering passion. Join us as we explore the secrets behind their success, the dedication to quality, and their remarkable efforts to create a positive impact in the coffee world.
–>Learn more about our Broadway Buddy Giveaways in Lakeview East<–
How Did Bae Coffee Co. Get Started?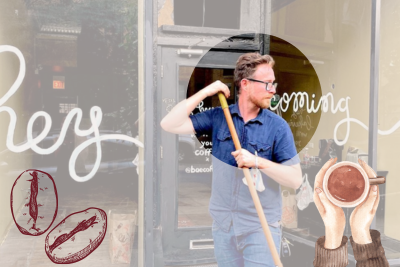 In the midst of the pandemic, when the world was grappling with unprecedented challenges, Alicia and Devon found solace and inspiration in their love for coffee.
As Alicia recalls, the seeds of Bae Coffee Co. were sown during the early days of the pandemic when restaurants were forced to close their doors and society went into lockdown. With a deep-rooted desire to learn more about the intricacies of coffee production, they embarked on a journey that would eventually lead to the roasting and selling of their own coffee beans.
In September 2020, Alicia and Devon took a leap of faith and launched Bae Coffee Co.'s online store. Despite the challenging circumstances, they remained determined to share their passion for exceptional coffee with others. The response was overwhelming, and the online store thrived throughout the following year.
From Lockdown Hobby to Thriving Business
Motivated by the success of the online venture, Alicia and Devon began exploring the idea of opening a physical retail space. The vision was clear – to create an immersive coffee experience that would delight customers from bean to cup. Finally, in May of 2021, Bae Coffee Co. signed a lease for their very own retail space, marking a significant milestone in their journey.
With unwavering dedication and countless hours of hard work, Alicia and Devon transformed the space into a haven for coffee lovers. Finally, in December 2021, Bae Coffee Co. opened its doors to the public, welcoming customers into a world of exquisite flavors and delightful aromas.
Resources for COVID-19:
What Is One Thing You'd Love Our Neighbors In Lakeview East To Know About The Business?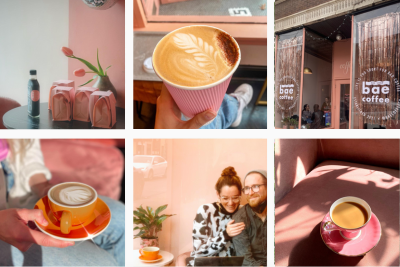 Alicia proudly reveals that Bae Coffee Co. is a two-person team, a fact that speaks volumes about their intimate approach to crafting exceptional coffee experiences. At Bae Coffee Co., Alicia and Devon do it all, from creating signature drinks and even hand-bagging their coffee beans in the background.
When asked about the inspiration behind their dedication, Alicia credits Devon's background as a chef for 20 years. His expertise and passion for creating exquisite recipes shine through in every sip. It is this fusion of culinary excellence and coffee craftsmanship that elevates Bae Coffee Co. to new heights.
You Might Also Be Interested In:
Are You More of a Dog Person or a Cat Person?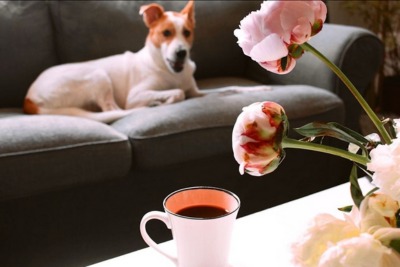 With a warm smile, Alicia reveals that both she and her partner, Devon, are unequivocally dog people. And at the center of their canine-loving universe is their beloved pup, Bowie.
Bowie, who turns six this year, holds a special place in the hearts of Alicia and Devon. With an undeniable charm and floppy ears that exude personality, Bowie has become an integral part of their family and the Bae Coffee Co. story. As any proud pet parent would, Alicia offers to share a photo of Bowie, proving that her phone is always ready to showcase her furry companion.
A Dog is More than Just a Pet
But Bowie is not just a fluffy bundle of joy. Like many pets, their furry companion carries a touch of anxiety. However, Alicia believes that their connection goes beyond words, as they provide support and comfort to each other. The bond between pet and human is a powerful one, built on unconditional love and understanding.
Let's raise a metaphorical cup to Bowie, the ever-floppy-eared pup. May the wagging tail remind us of the beauty and companionship that pets offer, even in the midst of building a thriving business like Bae Coffee Co.
==>LEARN MORE ABOUT OUR DOG WALKING SERVICES<==
What Is The Best Way For Our Audience To Connect With the Store?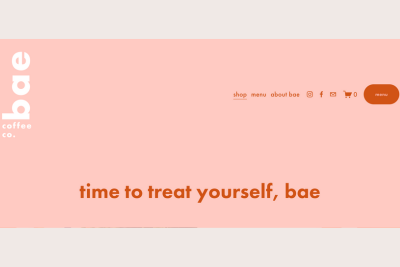 If you're in the neighborhood, don't hesitate to stop by!
But if you can't make it in person, Bae Coffee Co. is active on Instagram @baecoffeeco. You can also visit their website baecoffeeco.com to shop their products and explore the menu. It's the perfect way to connect with a small business that's all about connecting with their community.