Welcome to our Frequently Asked Questions (FAQ) blog post, dedicated to answering all your queries about pricing and payments for our exceptional dog walking and pet sitting services.
We understand that transparency and clarity are vital when it comes to these matters, so we've compiled a comprehensive list of common questions to guide you through our pricing structure and payment options. Whether you're a devoted pet parent seeking reliable care or a curious potential client, we're here to provide all the information you need. Read on to discover everything you need to know about our pricing and payment policies for dog walking and pet sitting.
Why These 8 Question's about Pricing and Payment are Asked by Our Client's?
Our clients' questions about pricing and payment for our dog walking and pet sitting services is completely understandable. We recognize that their beloved furry companions are not only cherished family members but also hold a special place in their hearts. Therefore, it's natural for our clients to seek clarity and assurance when it comes to the financial aspects of entrusting us with their pets' care.
We appreciate that they want to ensure they are receiving the best value for their investment and that their pets' well-being is our top priority. By addressing these eight common questions about pricing and payment, we aim to provide our clients with the peace of mind they deserve, assuring them of our commitment to transparent and fair practices.
You Might Also Be Interested In:
#1 What Do Your Services Cost?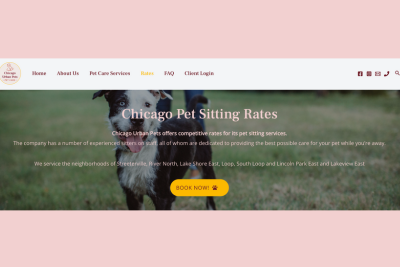 Our service costs vary based on the duration of the visit, ensuring that you have flexibility in choosing the option that best suits your pet's needs. A 30-minute dog/cat visit is $33, 45-minute dog/cat visit is $43, 60-minute dog/cat visit is $48, and a 90-minute dog/cat visit is $72. Whether you have a dog or a cat, we offer options to accommodate their exercise, playtime, and feeding requirements. Our visits are designed to provide quality care and attention, tailored to your pet's unique needs.
#2 Are There Discounts For Frequency?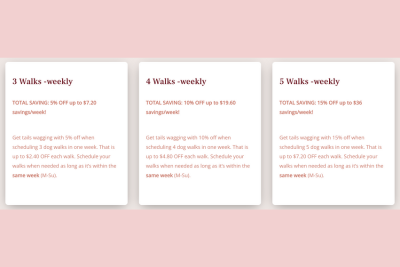 We value the well-being and regular exercise of your furry friends. That's why we offer a special discount program for consistent dog walking services based on your scheduled walks. If you schedule three walks per week, you will receive a 5% discount on the total cost of those walks. For those who schedule four walks per week, we offer an even greater discount of 10%. If you choose to schedule five walks per week, we provide a generous 15% discount.
#3 How Do I Pay?
To ensure a seamless and secure transaction process, we accept payments through our online portal, Time to Pet. When you onboard as a client, you will have the opportunity to add your payment credentials to your client account on Time to Pet. We offer two payment methods: credit card and ACH payments. You can choose the option that best suits your preferences and needs. And to simplify the billing process, we will automatically charge the card on file or initiate an ACH transfer on the 1st of each month.
#4 Do I Have to Pay Extra For Certain Times of the Day or Weekends?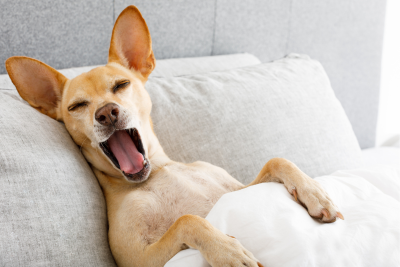 We have a $7 surcharge per visit during mornings before 9:30am and evenings after 4:30pm. We currently do not charge a surcharge for weekend services.
#5 Can I Schedule a Service Shorter Than 30 Minutes?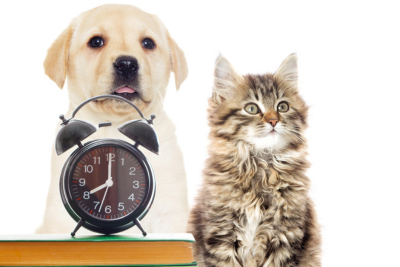 At CUP, we strive to prioritize the well-being and happiness of every pet in our care. To ensure that we can adequately attend to all their needs, we have implemented a minimum service duration of 30 minutes. We firmly believe that this timeframe allows our dedicated staff to provide the attention, care, and engagement that your furry friend deserves. By allowing us this adequate time, we can guarantee that each pet receives the individualized care and attention they need to thrive and enjoy their time with us.
#6 Do You Offer Pet Care Over the Holiday?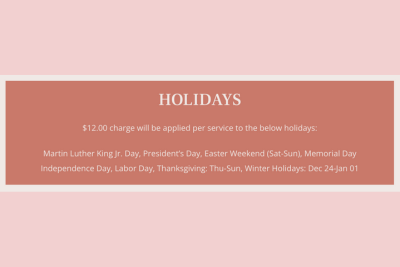 At Chicago Urban Pets, we are committed to providing unwavering love and care to furry family members every single day of the year. Our doors remain open 365 days, ensuring that your pets receive the attention they deserve no matter the occasion. It's important to note, however, that a Holiday Fee of $12 will be added to all services scheduled on major U.S. holidays. These additional fees applies to the following holidays: Martin Luther King Jr. Day, President's Day, Easter Weekend (Saturday and Sunday), Memorial Day, Independence Day, Labor Day, Thanksgiving (Thursday through Sunday), and the Winter Holidays from December 24th to January 1st.
#7 Can I Pay to Have You Drop Off Our Dog at the Vet or Groomer?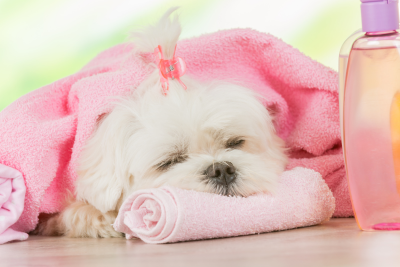 We are unable to accommodate drop-offs at the groomer or vet for your dogs. Our dedicated team relies on public transportation to reach clients' homes, which restricts our ability to transport animals to other locations. We request that you provide us with an emergency contact who can promptly take your pet to the vet if the need arises. Your pet's well-being and safety remain our utmost priority.
#8 Do You Offer Boarding in a Pet Sitter's Home?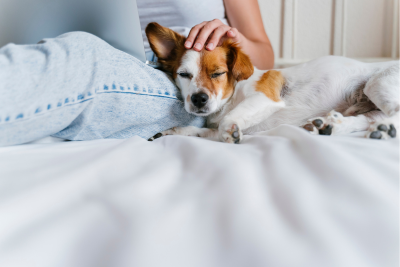 We aren't able to offer any boarding services for pets at this time. Additionally, our sitters are unable to accommodate pets in their own homes. We understand that this might be disappointing news, but we want to ensure that we provide the best care possible for your furry friends. However, we're more than happy to assist you with other services, such as pet sitting in the comfort of your own home. We will do our best to find a suitable solution for you.
==>LEARN MORE ABOUT OUR DOG WALKING SERVICES<==
Navigating Pricing and Payments with Chicago Urban Pets – A Conclusion on Seamless Transactions

Navigating pricing and payments with Chicago Urban Pets can be an effortless and rewarding experience for pet owners. By understanding the various pricing structures and payment options available, you can ensure that your beloved furry friend receives the best care and services without any financial surprises. Chicago Urban Pets' transparent pricing model, which includes clear breakdowns of services and add-ons, enables you to tailor your pet's experience to fit your budget and preferences.
You are not only gaining access to exceptional pet care services but also becoming part of a community that values transparency, convenience, and the well-being of your furry companions. With our commitment to customer satisfaction and our dedication to providing exceptional care at competitive prices, Chicago Urban Pets remains a top choice for pet owners throughout the city.