Chicago is a city renowned for its bustling urban landscape, but it also offers plenty of opportunities for four-legged friends to join in on the fun. As a dog-friendly metropolis, the Windy City has a wide variety of activities that both you and your canine companion can enjoy together.
Whether you're a resident or just visiting, this city has a host of pawsome experiences to offer. In this blog post, we'll explore the top five activities to do with your dog in Chicago, ensuring that you and your furry friend make the most of your time in this vibrant and pet-loving city.
Top 5 Activities To Do With Your Dog in Chicago: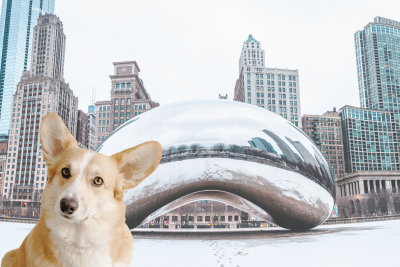 Disclosure: Some articles on this site may contain affiliate links, meaning, at no additional cost to you, Chicago Urban Pets may earn a commission if you click through and make a purchase. As an Amazon Associate we earn from qualifying purchases.
1. Go for a hike together
Take in the sights and smells of nature while getting some exercise.
Check out our recent blog post on the best hiking trails and supplies to bring along on the journey!
Or, if you want to be prepared for Chicago Winter, check out our FREE winter survival guide!
2. Visit a dog park
Let your pup socialize with other dogs and burn off some energy.
3. Have a picnic in the park
Bring along some of your dog's favorite toys and treats.
4. Get a Check Up
Head to the vet for an annual check up. 
Want to learn more about your pets health? Check these out:
5. Take a trip to the dog groomer
Get your pup clean and trimmed while bonding over the experience.
We are now offering a service where we can walk your pup to and from Dashing Dog!